Skilled Nursing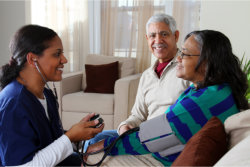 Did your primary care physician recommend that you should get skilled nursing services at home? Well, look no further because MedPro HEALTH PROVIDERS LLC is here to provide you with all of the skilled nursing services that you need – right at the familiar environment of your own home!
Using their education, expertise, and training, our skilled nurses at MedPro HEALTH PROVIDERS LLC can help with:
Administration of medication as ordered by physician and/or client
Incontinence care
IV Therapies
Meal/diet planning
Monitoring of present health conditions
Pre- and post-surgical care
Vital signs monitoring
Wound care and maintenance
…and many more
With the help of our Registered Nurses (RNs), Certified Nursing Assistants (CNAs), and other skilled healthcare providers at MedPro HEALTH PROVIDERS LLC, we pledge to provide you with all of the support that you need.
Our skilled and hardworking nurses are looking forward to assisting you! Reach out to us at 708-240-8088 and let's discuss skilled nursing arrangements today.