About Us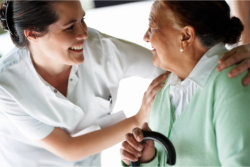 At MedPro HEALTH PROVIDERS LLC, our clients are always our top priority, and in no way, shape, or form, do we want our clients to compromise on their health. Do not delay to get the care that you or your loved ones need. Moreover, we highly encourage you to get healthcare assistance at any time you need it.
It is vital to get proper support, particularly if you or a loved one is suffering from dementia, has just been discharged from the hospital, has been diagnosed with a chronic/terminal illness, or is enduring some other health conditions. You do not have to do struggle, after all, we have skilled professionals who can take care of you.
As a recognized home health care company based in Tinley Park, Illinois, MedPro HEALTH PROVIDERS LLC offers you and your loved ones with the aid that you need. Our services are designed to provide a client-centered care that is affordable, prompt, and precisely what you need at home.
At MedPro HEALTH PROVIDERS LLC, we are proud to say that we are an equal opportunity employer and service provider:
MedPro HEALTH PROVIDERS LLC promotes equality in providing services and employment. In practice of Title VI of the Civil Rights Act of 1964, the company protects employees and clients from unlawful discrimination against race, religion, sexual orientation, gender, color, national origin, age, disability, economic status, or social status.
We are always here for you! Simply dial 708-240-8088 for further inquiries. We can arrange for skilled nursing, in-home therapy, and other related services for you and your loved ones.